Industrial Video Converter of TTL digital video signals from MDA, Hercules, CGA, EGA, TTL to VGA
Description
Digital video converter x2VGA achieves the conversion of any digital TTL video signal to VGA. x2VGA converts old TTL video signals like MDA, Hercules, CGA, EGA or any industrial non- standard TTL video signal to VGA.
The conversion is fully automated, however the user, through the graphic OSD operation menu, can change any parameter of the input video, like the sample clock and the vertical and horizontal active video pixels. This fine configuration permits to obtain a perfect quality of the output.
x2VGA can be used to replace broken or malfunctioning TTL industrial monitors both monochromatic or color. Using x2VGA to replace industrial monitor is cheaper than repairing old exhausted monitor.
Thanks to the unique characteristic that let to dinamically change the pinout of the input connector, the x2VGA is able to convert perfectly the MDA, CGA and EGA with their full and original color palette. This is a perfect feature to use x2VGA as a video converter for graphic and games.
Characteristics
Types of input signal (MDA, CGA, EGA, Hercules) automatically recognized to display the correct color palette;
MDA/Hercules (2 colors), CGA (16 colors) and EGA (64 colors) color palette fully supported;
Automatic power saving: if input signal is missing the monitor connected to the output goes to stand-by;
Input horizontal frequency 12.5kHz to 50kHz automatically recognized;
Supports vertical resolution of the input video signal from 100 to 600 lines;
Supports input digital video (TTL signals 0-5V);
Input does not support analog video signal (0-0.7V);
Supports separate sync (Horizontal frequency signal and Vertical frequency signal) and composite sync (Horizontal and vertical frequency signals are mixed in only one wire);
OSD shows in real-time the horizontal and vertical frequency, their polarity and the type(separate or composite sync)
Recommended power supply is DC 12V minimum 600mA center positive
OSD
Any parameter of the input and the output video can be manual set using the operational menu OSD of the x2VGA video converter. This allows, even with non-standard industrial TTL video formats, to configure the converter to get a high quality VGA signal.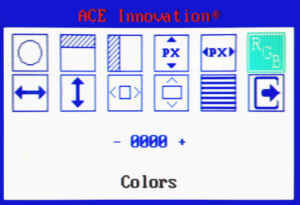 Examples of CRT converted to VGA
In the following, a list of old industrial boards for CRT monitor control replaced with the x2VGA Video Converter
CABEL 110195
SELTI SL/8100101
SELTI 22.0273.2
SELTI SL/9327240Q
SELTI 22.0248
SELTI SL/7002
SELTI 72007013
SELTI 22.0291.6
Olivetti ETV 260/250
CNC control NUM 750 (modified version, only on request)
Resources
Youtube – Videos made during prototype test (knitwear machine APM and Protti)
Replace RGB Color Monitor Protti
Replace Monochromatic Monitor APM